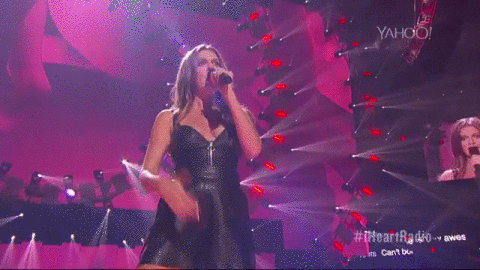 As we ramp up to Q4, Tove Lo has pulled out all the stops to make song of the week.
Q4 aka Pop Xmas has come early this year as big and small superstars from around the world have decided not to fuck around and release some killer new tracks. Here they are!
Mega awesome dead pop stars have unfortunately made the worst songs this week... Sorry George and Michael.
The Klingande single involves a child singing "Pumped Up Kicks" over a dance beat... make of that what you will.
The new Sam Smith song "Too Good At Goodbyes" is predictable but inoffensive so I suppose that's progress.
Hailee Steinfeld has recruited a small army of people to help her out on new single "Let Me Go". Unfortunately, it's Spotify and tropical house put together. Both of these trends should be over by now.
This new Demi Lovato era is worse than the last one and Confident was not great. "You Don't Do It For Me Anymore" is not her "Cool For The Summer" of this era but I'm holding out hope that maybe there's something up her sleeve.
TOMI has a song called "Long Time Coming" which basically sets the bar for "good song" status in 2017. A solid 6/10.
Based on "Frontline", pop Kelela isn't going anywhere and I see this as a positive career move.
Beatrice Eli has a new EP out and it sees the Swede embrace synthpop very much. Good for Beatrice for realizing the light.
Kelly Clarkson is taking a page from Kesha's book and releasing a brassy and sassy single called "Love So Soft" with an absolutely killer music video. As if that wasn't good enough, she has another track today, the slow burning and very emotional "Move You". This era of KC feels like it's gonna be great!
In crazy collaboration news, TIEKS has brought CHAKA KHAN and Popcaan along for a rather bouncy new dance song.
For those of you itching for that new Bjork single, I hope it sounds like anything off the new Tori Amos album.
Princess Nokia has a good song called "Saggy Denim" that would have been a great Aaliyah single.
In a move I did not expect, dark-pop songstrel Skott has made something quite upbeat with her collaboration with Grey called "Crime". It's a little too Spotify sounding for my liking but her voice is like butterflies across silk and it's nice to know she is a versatile pop star.
"Out of My Head" by Loote sounds like a Hey Violet single and if you knew how much I like Hey Violet, you will know that that is a great compliment.
Even though it came out on SATURDAY, I've included the new Taylor Swift single because it is quite good and Max Martin helped make it. The "In the middle of the night, in my dreams" bit is what it's all about.
If you need a double dose of Popcaan, fear not. He joins up with the true star of Drake's "One Dance" Kyla for her new single "You Ain't Mine". This is island pop done right.



Nina Nesbitt has made a great breakup anthem that showcases her new raw yet still pop sound. The artwork also sees her throw a TV into a swimming pool. So it's a party all around with Nesbitt.
Brazilian hometown star Anitta is working to break out worldwide and her first English language single (apart from her helping Iggy Azalea) is the breezy and sultry Poo Bear collab "Will I See You". She definitely has the voice to take over the world.
Norway has once again saved music this year. There are new albums by both Anna of the North (joyous icy electropop) and Susanne Sundfør (organic depressing orchestral pop) representing the polar opposites of what Scandinavian pop can accomplish.
Since most of the guitar toting boys are in the dumpster at the moment, The Tide could very well be our greatest hope. Their new single "Naked" is a step in the right direction, and apparently some of their music is with Xenomania so their definitely on the right path.
Lao Ra has a new single with a little Spanish, an unexpected trance beat, and proves her to be another big up and comer, especially with the big Latin music trend at the moment.
Priest were a cool pop group back in 2014 and after an ok album they appear to be back with a breezy and smooth dance track called "White Wing Dove". If all goes well, they could make the best Kylie album we never knew could happen.
DAGNY IS BACK AND SHE'S GONE AND DONE DISCO. Disco Dagny has covered the "More More More", the iconic single from the 80s. It's actually quite good but an original Dagny single would be great anytime now.
St. Vincent has unsuspectingly made a Ladytron song with "Los Ageless". One of the best of the week actually. Pre-Q4 is wild.



Zayn has finally continued to promote his new album thanks to a new single "Dusk Till Dawn". While it isn't a Ladyhawke cover, it is a ballad with Sia, who essentially takes over the whole song. But that's ok, who wouldn't love a Zia ballad?!
This actually came out last week in the rest of the world, but INGRID has a new song called "1234" that would have made the top 3 last week, but does quite well this week too.
Maty Noyes really outdoes herself with her new single "Say It To My Face". It's pop but sinister and dark. In a world without a Natalia Kills or KLOE making music, Maty feels like a good pop person to have around.
Nadine Coyle
. Ex
Girls Aloud
member Nadine Coyle. Now just
Nadine
(very
Cheryl
of her). She's back for her third shot at pop solo stardom and she does it with "Go To Work". This is particularly special as it reunites her with the man behind the Aloud,
Brian Higgins
of
XENOMANIA
. It's a big old gay house piano filled rally cry to all the unemployed. It is actually bringing a tear to my eye to hear something so similar to the Aloud after all these years. If the new Xenomania can keep giving us bops like this and "
Hair Down
", pop could be saved after all.
Tove Lo
wasted no time proving just how amazing she is. After dropping her second short film, she is back a week later with the best named song ever "Disco Tits". DISCO. TITS. DISCO + TITS! And can I just say that it's kind of ridiculous how well Tove knows her pop image. It's another sexy and horny club single that proves she is the absolute coolest. It mixes all of the best raw lyrics from her first album with the detached melodrama of Lady Wood. In the past four years, Tove has become the foremost queen of Sweden and her next album
Blue Lips
is sure to be another masterpiece. Stay High with one of the best pop singers of the century.
Here is a playlist of all the highlights of this week, with "Disco Tits" as the finale. If you want to catch up with the best of the best, here is another playlist for 2017 pop hits!