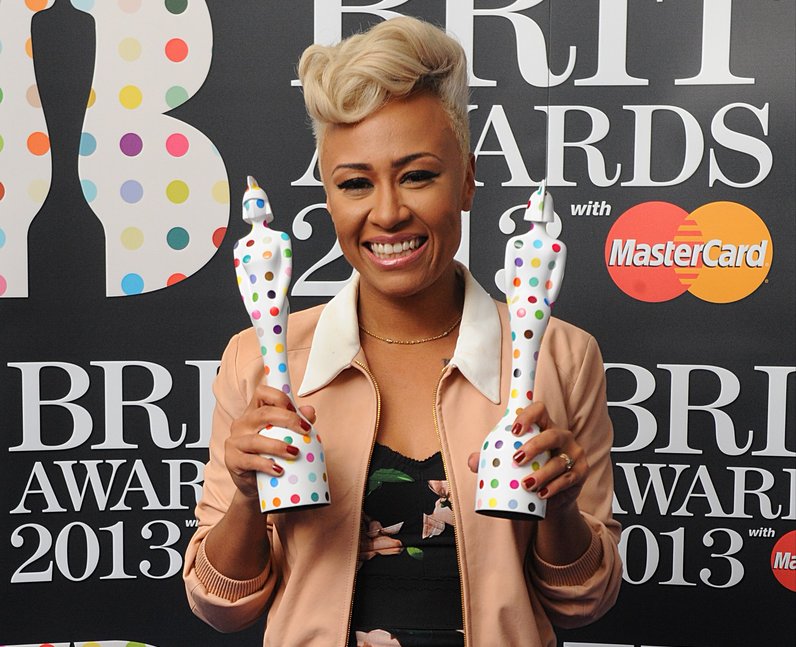 capitalfm.com
December is nearly upon us and that means we have an entire new year to get excited for. In order to optimize your musical experience for the new year, a bunch of music critics decide to tell you what artists are likely to become "successful" and force you to listen to them. One of the most credible sources of this type of judgment comes from the BRIT Awards. Essentially the British version of the American Music Awards, the BRITs are amazing and horrible at the same time. Performances are amazing, winners are horrible. So the perfect award show.
One of the awards given at the awards every year is the Critics' Choice award, which as you can tell, is given to the critics' favorite British act of the upcoming year. Starting in 2008, it started out as an intelligent discussion on who has the most talent to carry on the British tradition of great music, where any new act releasing their debut album the following year was eligible. Now, it has become the self-fulfilling prophecy to give the act of choice a guaranteed hit in England. Granted, most of the time they make good music so all's well that end's well. Let's take a look back at the past winners as well as this year's nominees and my take on who should win (I'VE BECOME ONE OF THEM!)
Winner For 2008: ADELE
This was a correct decision.
Adele
was a good choice for the first winner and she has taken this award in stride and been the premiere artist for sad blubbathons for the past 5 years. The other nominees
Duffy
(
remember her
?) and
Foals
have done all right for themselves but if anything, Adele's new album will probably slay 2015 and teach all future winners how to take over the world.
Winner For 2009: Florence + The Machine
For most people, 2009 was a golden age for music. The reinvigoration of new wave and disco-tinged pop thanks to artists like Ladyhawke, La Roux, Goldfrapp, and Lady Gaga made it one of the most magical times to be alive. Nonetheless, the award went to Florence and Her Machine, which in hindsight was probably the correct decision. Her debut album was the perfect antithesis to all the electro production going on but kept in line with strong and creative females taking over music. And if you weren't wailing to "Dog Days Are Over" that year, you and I can't be friends. Once again, the new album may be the best alternative album of 2015.
Winner For 2010: Ellie Goulding
This was a tough one. The three nominees this year were Ellie Goulding, Marina & The Diamonds, and Delphic. Clearly, everyone was rooting for Delphic (HAHAHAHA). But seriously, how can you choose between Ellie and Marina? It was the Sophie's Choice of music that year. Unfortunately it came down to who could sell more records and Ellie Goulding definitely had a more mainstream sound. If Marina had recorded "Starry Eyed," I don't know how they would have picked. Oh well, they both had #1 albums and since both are gearing up for round 3 of "Whose album is better this year in 2015?" we'll see whether Ellie can hold onto that title.
Winner For 2011: Jessie J
This was the first year where things started to get a little shady. At the time, Jessie J was probably the most exciting thing in pop music, especially when her competition was The Vaccines and James Blake (now I'm throwing shade) and her debut album did indeed go to number 1. And considering "Price Tag" may have been circulating, it seemed that Jessie probably had a unique point of view and a strong female voice to usher in 2011. Well, 3 albums later and now we can see that at best, Jessie J is a C list popstar that will most likely appear on the occasional hit every now and then but isn't capable of a "Bad Romance" or "I Love It" anytime soon (I still love you Jessie!).
Winner For 2012: Emeli Sandé
Emeli Sandé
brought back some credibility to this award as her debut album remains a work of art. However, she did have some luck in terms of competition, with
Michael Kiwanuka
(who?) and
Maverick Sabre
(what?) making leaving a minimal impression. Also, the fact that she performed at every event in all of England, including
the goddamn Olympics
, seemed a little desperate. Nonetheless, Sandé has the talent, charisma, and songs to be a little more aloof and relaxed her second time around and I couldn't be more excited about the new material.
Winner For 2013: Tom Odell
It's a boy!
Tom Odell
seemed like a refreshing change to the constant barrage of female vocalists that seemed to conquer the charts last year. But his win proved two things about music: 1) you can never go wrong with a female vocalist 2) sad looking boys singing sad piano songs isn't as romantic and ethereal as it sounds. While Tom's first album did reach number 1, it was a rather dull affair. Plus, the runner ups included
Laura Mvula
, who seemed like a worthy alternative for soul music, and
Alunageorge
, for those who love pop music and therefore, DESERVED TO FUCKING WIN THAT YEAR. Oh well, Tom had a flash of genius with "
Can't Pretend
" so we'll see whether he can become the male Sandé or not.
Winner For 2014: Sam Smith
This was a better choice for a man.
Sam Smith
had been around for a while making some all right dance music before revealing that he likes singing sad songs too. At least he had the sense to add a gospel choir and his debut album, which seals the awards 100% number one rate, is the closest to a male Adele we've ever had. HOWEVER, as a pop blog, I have to interject and say both the runner ups would have made amazing winners.
Chlöe Howl
has been
a favorite of NSOTP
for a while and her debut album could be so astronomically amazing no one will know what planet they're on. The other,
Ella Eyre
, has the best hair in music at the moment and her newest single "
Comeback
" is in the running for song of the year. So while it was a tough choice, I suppose Sam was worthy for 2014.
Who Should Win The Award For 2014?
The nominees were announced on Thanksgiving and Surprise! They're all boys! I'm gonna give a quick introduction and let you know who I think should win. But as we all know, the public determine success so let me know who you think should win the award, even if they weren't nominated!
George The Poet
A "spoken word" artist I had never heard of before this nomination. I was hoping for a more positive Azealia Banks turn (the song is called "1,2,1,2" what else was I supposed to expect?) with George The Poet but from his one single it looks like he just likes repeating the same line over a vaguely danceable beat. I don't think he'll fare well considering the other two acts have a little more substance to them, sorry.
James Bay
A sad looking boy singing sad songs. Nothing that new except that James Bay plays a guitar. It's actually rather pleasant once the beat gets going, something to consider on all songs James. If the pattern is 5 female power vocalists then 5 sad boys, James will probably be the winner but let's not get too depressed because the next act is properly AMAZING
Years & Years
Pop band
Years & Years
popped up earlier this year with their single "
Real
" that seemed to have every blog buzzing, but never really made an impact on me. Since then, they have released an eclectic set of singles including electroreggae trop-pop single "
Take Shelter
", a cover of
a Blu Cantrell song
, and lead singer
Olly Alexander
's (he guest starred on "Skins" !!!!) vocals on
this pretty amazing dance single
by
The Magician
. Having notched up one top 10 hit already, the band just released their next single "Desire." Not only their best single to date, it looks to be a proper solo hit for the band reaching the top 20 on UK iTunes. While it's hard to picture what their debut will sound like, they are one of the most exciting things in pop nowadays and if I had my way, they would surely be the winners of the BRIT award next year. Good luck guys!