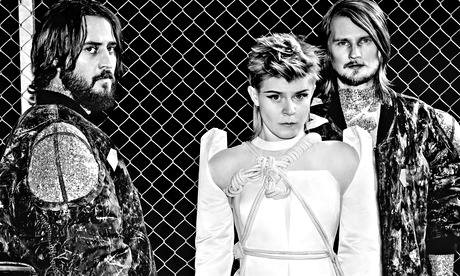 www.guardian.co.uk
It is a known fact that 2 amazing popstars create some of the best music of all time. Examples include
Lady Gaga & Beyoncé
,
Iggy Azalea & Charli XCX
, and
Rihanna & Lil Mama
! So what could possibly happen if those two (or three) popstars happen to both be Scandinavian and release a mini-album together. Well, you get the
Do It Again EP
by
Röyksopp & Robyn
.
Me when I heard the news!
Now for those unfamiliar,
Robyn
only represents everything that's right with music since the 90's. Listening to "
Call Your Girlfriend
" and "
Dancing On My Own
" should set you straight. As for
Röyksopp
(the two bearded gentlemen), they happen to be a Norwegian electronic duo that have made rather listenable music as well. The two acts are quite familiar with each other already. They had collaborated on the classic "
The Girl and the Robot
" back in 2009 as well as "None of Dem" in 2010. Well seeing at how well that did, Robyn and Röyksopp decided it was time to join forces to create a sort of "band" type situation where Röyksopp provides the sound while Robyn blesses us with a vocal. Their new EP, which hit number one on the Billboard Dance and Electronic Chart, should be quintessential listening to all electronic music lovers and coincides with their joint tour for 2014.
The 5 song collection explores a wide range of electropop but the true highlight is the title track "Do It Again." Within the first few seconds, you know you've stumbled onto a truly special track. The ravey bouncy track keeps you guessing at every turn while Robyn gives you her signature vocal that matches the shimmeriness of the track. And that build-up into the chorus screams "LISTEN TO ME, I'M AMAZING!" And as Robyn tells you, you'll want to DO IT. A. GAIN! It really has the merits to be one of the best songs of the year (obviously cuz Robyn) and hopefully it gains legendary status like other Robyn songs within 5 years. Well, let's hope Robyn has more of these up her sleeve, but until then let's just listen to this anthem AGAIN!