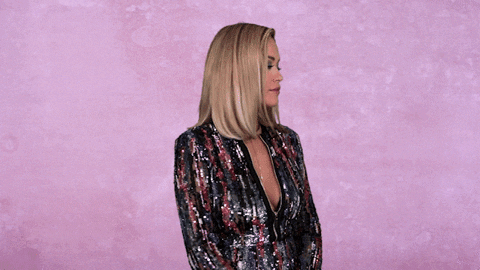 Rita Ora continues to NEVER LET US DOWN and made song of the week.
Today is without a doubt the best NMF of the year, which makes sense as pop Xmas aka Q4 is in full swing. There are plenty of miracles you will notice but are not limited to ANOTHER MARIAH CHRISTMAS SONG.
That Mariah Carey song is kind of shitmazing isn't it? Like it would fit in perfectly with her movie Glitter, which is the actual definition of shitmazing. We are truly unworthy of Mariah.



The marshmello song is sparky for a Friday morning but at least it isn't as boring as that Noah Cyrus song. Still, it's about time we get that one he did with the Queen of Never Letting Us Down Rita Ora.
The new Sigma single sounds like nothing they have done before, which is good since most of their songs sounded identical. If they just binned off Quavo, it would be a lot higher on the list.
If you thought feat. Sean Paul was a thing of 2016, Valentino Khan is here to prove you wrong.
Fifth Harmony pop up on the same soundtrack as Mariah with new song "Can You See". It's a rather beautiful and quiet mid tempo ballad that surpasses every song on their last album. Another Q4 miracle.
That Frida Sundemo album doesn't get any worse does it? But we're not gonna talk about that right now. Instead, I'm here to discuss the new track she appears on with Lindstrøm for his new album. "Sorry" pumps along a bumpy synth beat that would make Robyn proud but Frida's voice truly makes it worth while.
Off-kilter pop purveyor
Cuckoolander
used to be in
Charli XCX
's live band but she is continuing her journey as a solo star with a new EP! It's through Charli's Vroom Vroom Records label too so you know it's good. If you need a place to start, 2015's "
Mother Nature
" is a solid pop moment.
In terms of an unnecessary pop miracle, the new MGMT single "Little Dark Age" is quite listenable.
I was quite happy to never hear another Kygo song with a bloody tropical tambourine for the rest of my life. But as I mentioned with those Q4 miracles, the title track for his new album "Kids In Love" is an elegant and polite banger that is more trance than tropical. If the creator of tropical house has moved past it, is it a sign music is FINALLY moving forward.


Jaira Burns continues to try to be a good pop star and her new single "High Roller" feels like the first sign that she might accomplish that. Considering Allie X and Leland have helped her write songs, it will happen sooner rather than later. The second verse is the best and includes the line "I fuck with yoga so I can keep that shit tight". Same Bitch.
Kelly Clarkson has been a Q4 staple for quite some time and this time around she has dropped the title track of her newest album. "Meaning Of Life" keeps up her new gospel direction, but if only the music hit a little harder. Good thing we get more than one Clarkson song today...
The new
Thea & The Wild
single "Paved The Way" sounds like a
St. Vincent reject track
. Did I mention how much I liked that last album?
Sad song singer morgxn is back with a new single called "bruised" that feels like one of his more signature songs, aka its slow and sexy but quite depressing as you think "we HAVE all been used".
Jolan is apparently a young singer who was on the Voice UK but that's all a bit boring so let's just list the exciting stuff.
NEW EP.
FIRST SONG WRITTEN WITH MNEK.
PRODUCED BY XENOMANIA.
IS RATHER GOOD. That is all you and I need to know about Jolan's new EP.
It's another 1D blow out and luckily Louis is nowhere to be found. Liam Payne's new song is leaps and bounds above the absolute garbage that was "Strip That Down". "Bedroom Floor" is a polite and sensual dance track that does not establish Liam as the best member of solo 1D stars but he has the best potential of giving us the actual pop hits right?
There are two songs involving Jonas brothers today. Another Q4 Miracle. Nick Jonas has contributed a banger ballad called "Home" to the "Home" soundtrack which as far as I can tell is about a gay anthropomorphic bull. The best part is the first word of the chorus when everyone shouts "HOME".
"Back and Forth" by Bormin' is Spotify pop gone right and clocking in at under 3 min feels like the perfect time for music like this.
Sälen has apparently made a short film... whatever that entails, it does involve some new music. Both "I'm In Love With My Best Friend" and "I Am Champagne" are their best songs in quite some time but I only included the latter as it includes FRENCH.
It's fair to say no one gives a shit about that new P!nk single but at least the remixes are great. After the spectacular Barry Harris one from last month, Tiesto has come along and done his usual thing to "What About Us".


As I suspected last week, off bloom are adding new tracks to their EP and the new title track is the best one by far. Maybe I'll do an EP review when it's all done.
The new Taylor Swift single sounds like CHVRCHES produced it. "Gorgeous" is about a guy who's so hot you can't talk to them. While that's a stupid mindset, we've all been there so Sound the Relatable Swift siren. Could have exploded a bit more in the chorus but oh well, it's better than the last two.
Just based on her cover art, I know I'll like new artist Woodes quite a lot. Luckily "Dots" is bouncy, full of percussion, ominous, and orchestral. I am 99% sure she is Scandinavian so that explains most of why this song is amazing.
Canadian duo Kids In Despair or K.I.D have made their fair share of absolute bops including "Errors" and the Cupcakke collab "Boy". Their new single "Elevator" isn't as noisy as the others but it is about getting fingered or blown in an elevator so you know they haven't lost their magic. Another act to watch out for.
Hayley Kiyoko has been toying with the idea of being a huge pop star but it feels like now is her time. "Feelings" has a lot of interesting sonic twists but keeps all of Hayley's classic moodiness.
"Pray" by Natives is a big in your face arena-sized pop banger. And that is a Q4 fact.
Jessie Ware
. What a woman. Her third album
Glasshouse
is another breathtaking album full of songs about yearning and falling in love. Jessie has always had a way at tugging the heartstrings and it's nice to see she hasn't lost her touch. Again, WHAT A WOMAN
.
As I mentioned, the other queen of Christmas Kelly Clarkson is back with a bell-filled, horn-heavy FESTIVE AS FUCK single. "Christmas Eve" feels like a holiday classic already but to have such a good one in 2017 feels like a Q4 MIRACLE.



Esther Vallee has been playing around with being a top pop star for a while but the Swedish singer is coming out with guns blazing on "Numbers". Seriously, that chorus is EVERYTHING. Esther can officially be the first pop star with a self-proclaimed code!
The other Jo bro, incidentally named Joe Jonas, appears on the new Naughty Boy single. "One Chance To Dance" has a cool Indian beat and Joe sounds like a superstar on the track. Good job to everyone involved.
I've never heard of Handsome before but their new single "Late Night Ball Game" takes its time to build into a beautiful mess of majesty. The quieter moments are just as powerful as the big choir-filled chorus and that's a sign of great music.
As far as boys with guitars albums go, Flicker by Niall Horan is quite lovely. The mix of more forward thinking sleek pop songs with classic ballads and country is a nice touch. I thought that Niall was a Q4 miracle based on "Our Town" but he has proven to be a solid 2017 success story.
The Q4 miracles have still not stopped because Swedish superstar FEVER RAY IS BACK. You might know her better as the female from The Knife, but back in 2009 she made a sad dark album of downtempo pop that was beautiful and anyone who says it wasn't can fuck off. Well she's back with a song much happier and full of squelching electronics that is a complete 180 from OG Fever Ray. "To The Moon and Back" makes me more excited about this Fever Era and the lyrics prove she has something major to say.
I may not have talked about her much on the blog (BUT I WILL SOON) but new singer LOOP is amazing, came out with a killer EP earlier this year and understands all the little bits that make a great pop songs. Her new single "Maybe I'm a Liar" is slightly tropical, very rhythmic, and 100% amazing. One of the brightest hopes for pop.
Q4 wouldn't be complete without an unnecessary but spectacular single edit of a 10/10 song. This time 2017 queen of music Julia Michaels pops up on the Bloodpop and Bieber single "Friends". Although considering she wrote the damn thing, those are probably the original vocals mixed with Justin's and then they gave it to us as a pop Xmas present. Thank you Santa Bieber!
The best song of the week happens to be one that is not a true Q4 miracle. As prophesied by her own 2014 single "I Will Never Let You Down", Rita Ora has still NEVER LET US DOWN. Her new single "Anywhere" sounds like a hit but is also not a boring hit like many of the 2017 chart toppers. It has a slight ABBA esque melody and takes the prize for the best pensivebanger of the year. So while this NMF exemplified all the surprises Q4 has to offer, "Anywhere" is just another major pop moment for a major pop star, and anybody that disagrees can frankly fuck right off.
Here is a playlist of all the highlights of this week, with "Anywhere" as the finale. If you want to catch up with the best of the best, here is another playlist for 2017 pop hits.