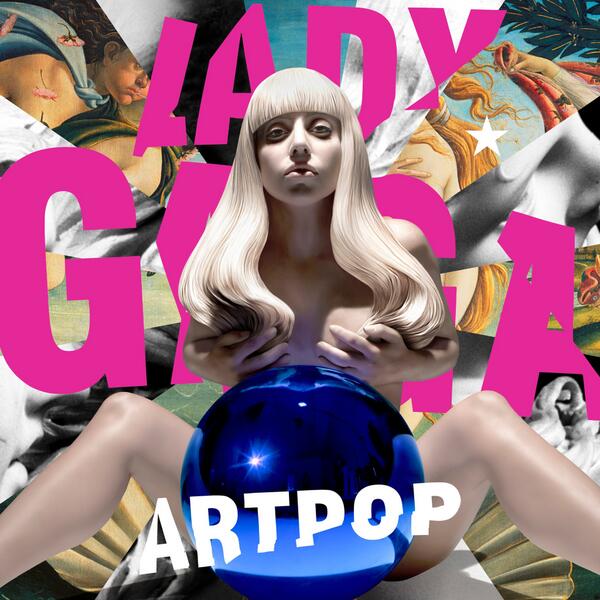 Side Note: As a huge Koons fan, the album artwork is a 10/10
I'm back again with another installment of Track By Track Throwback. This time we take a look at Mother Monster's third studio album ARTPOP, an eclectic collection of grade A pop songs that ultimately failed to leave a real impression of what Lady GaGa wanted to accomplish. But in the end, Gaga still got around to creating some amazing music so let's go ahead and take apart this late in the game masterpiece.
1. Aura
Of course the first song off ARTPOP would be a controversial EDM song about wearing burqas as a form of flirtation. Regardless of whatever statement she is making, "Aura" is a cutting edge pop song that has more excitement than half of the top 100 combined. Thanks to Infected Mushroom, Lady Gaga proves that she can adopt any cultural persona, even Middle Eastern, to create a hit. And that chorus of "Do you wanna see me naked lov-uh?" also proves that Lady Gaga's writing chops have not failed since her beginnings on The Fame.
2. Venus
If there is one thing that the world should know about Lady Gaga, it's that she is one of the most intelligent HUMAN BEINGS on the planet. "Venus" was apparently written, produced, and mastered all by Stefani Germanotta herself. In all honesty, you can kind of tell she did it too. It's one big barrel of crazy after another with lyrics like "Garden panty, seashell bikini" (her grocery list probably) and a whopping 4 choruses. Unfortunately, it never fully comes together as the pop colossus Gaga meant it to be. However, her marketing strategy was genius, releasing the weird bits first, which let us get used to it before releasing the Frankenstein of pop. Take note Donald Trump, Gaga means business.
3. G.U.Y.
One of Gaga's best singles to date. Next to "Telephone," this is probably her best single. Like "Bad Romance" "Just Dance" level good. From the Greek God referencing intro, to the "love me love me please retweet" to the gender bending chorus, this is pop at its finest. As with most pop, it was under appreciated and became Gaga's lowest charting single at 79 :( Still, Zedd and Gaga should make more power bottom anthems like this again. And the video returns to the mind boggling stories that brought Lady Gaga to such superstardom in the first place. THE REAL HOUSEWIVES THOUGH!
4. Sexxx Dreams
When Gaga performed this at iTunes festival, everyone freaked out. If she had stuck to that fan poll, "Sexxx Dreams" (or X Dreams on the clean album) would have been the next after "Applause." Imagine Gaga singing "When I lay in bed, I touch myself when I think of you" on the radio!!! The moms would have gone insane. But ultimately, only Gaga would have pulled off this ode to pure sexuality and she would have once again revolutionized the music industry as we know it.
5. Jewels N' Drugs (feat. T.I., Too $hort, and Twista)
In the 6 years Gaga has been gracing us with her music, this is her first real misstep.
While hip-hop & rap certainly isn't something Gaga cannot do
, she should have taken it a little more old school and a little less electro, considering the rappers she recruited aren't exactly experimenting with new sounds. We do get some retro Fame-era Gaga at moments, but that wasn't enough to save "Jewels". Those
Azealia Banks
collabs probably would have been better for the album but what can you do. This song is best left forgotten.
Justice for #Ratchet
6. MANiCURE
By far the catchiest song off the entire album. That cheerleader stomp with the stadium guitar chords is a golden formula for anthemic status hit. I dare you to try not to scream "MANICURE", bet you it's impossible. The live version at iTunes festival got me very excited and Gaga delivered like Domino's. Hopefully, Mother Monster isn't too into that jazz album to release this as a single (sorry Tony Bennett).
7. Do What U Want (feat. R. Kelly)
Oh Gaga, why do you have to taunt us so?! This song was a clear favorite amongst the public and shows Gaga's range in different genres, as she successfully conquers R&B territory in this hit and even calls out her haters in an articulate way, before Taylor Swift even knew what was happening. But R. Kelly… Why R. Kelly? Granted, he can sing very well, but with his reputation and Gaga's own image of high sexuality, this was a recipe for disaster to begin with. Even Adam Levine would have been a better choice! Let's just all try to forget this ever happened and remember that Gaga did recognize her mistake and correctly released the correct version of the song which is below. #GAGASTINA
8. ARTPOP
For some reason, all the critics fucking loved this weird ass song. It may be a more sophisticated version of Selena Gomez's "Love You Like A Love Song" but it's nothing that special. Oh well, this album is somewhat of an indulgence for Gaga so I'll let her have this one.
9. Swine
Now we're getting to the good stuff. Lady Gaga finally finds her home in the heart of EDM and this bouncy hiccupy track is basically what we all want to say to the SWIIIIIIIIIINE in our lives. Let alone the fact that Gaga has made iconic performances of the song, despite media backlash. Overall, this is where ARTPOP truly shines and Gaga embraces her signature sound.


10. Donatella
This was the diva moment of the album that cemented Gaga's title as the true Queen of Pop amongst album releases from Katy Perry, Miley Cyrus and Britney Spears (no justice for #BritneyJean). Comparing herself while also honoring Ms. Versace proves Gaga's appreciation for the pop culture that made her so famous. It also doesn't hurt that this highly quotable and catchy song happens to be the perfect candidate for the next gay anthem.
11. Fashion!
No, this isn't Gaga's contribution to the Confessions of A Shopaholic soundtrack. It is a
David Guetta
-produced slice of retro disco that brings us all back to the dance floor where Gaga belongs. However, I am gonna call her out as I was made aware that she possibly stole Alyssa Edwards' catch phrase. I suppose it's forgivable as
her Thanksgiving performance with RuPaul had me slayed
.
12. Mary Jane Holland
This is one of Madeon's contributions to the album and it seems that his production overshadowed Gaga's songwriting. Still, who doesn't love a song about marijuana? One of the dramatic high points of the album for sure.
13. Dope
Oh god, here we go. The obligatory piano-led ballad that Gaga seems to love. Unfortunately, while the fans may have eaten it up, this is a real low point on the album. "You & I" and "Speechless" would have been better on this album and while the production is on point, Gaga's delivery just doesn't give me the feels she so easily brings from the dance floor.
14. Gypsy
Now, THIS is what a Gaga ballad should sound like. Starting off with a simple piano, Gaga builds up to that ridiculous "TONIGHT!" and delivers a power ballad so strong that Celine Dion would be proud of. It has all the signature Gaga-isms, a euphoric chorus, a catchy refrain, a self-reference (#Scheiße) and the best part displaying her genius/insanity. Clearly, that would be the part where Gaga starts listing nationalities over Madeon's beat.
15. Applause
"Applause" is exactly what the world needed. The meta prowess that Gaga possesses in this song shows just what a formidable pop deity she has become over the years. Over the pop art references and hype-building slayvation she delivers, only Gaga would be able to create such a self-serving anthem and have us eat it up. Over the 32+ Applause's, it becomes clear that pop is a changed landscape thanks to Gaga's contribution.
This was Gaga's pet project. For the artistic types of the world, we can relate to really believing in a project out of passion and love. With all her material, Gaga puts her all into every aspect of the creative process. In places on ARTPOP, this looks like desperation and confusion. But ultimately, songs like "G.U.Y" and "Gypsy" (which could, and should become major hits someday) prove that our Queen is still there and we should give her our love, because she has shared it with us on every track from "Just Dance" to "Applause."